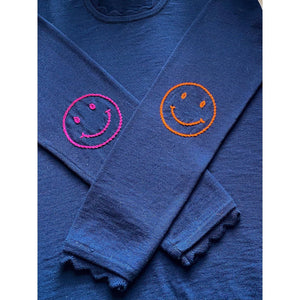 Alex Gore Browne creates beautiful products we hope you will enjoy for a very long time. To give your knitwear the longest possible life, we recommend you follow this simple guide for caring for your favourite pieces.
WASHING
Try to let your knitwear air and relax after use, avoiding direct sunlight. Refer to the individual care label, but generally we advise that all unembellished knitted items should be dry cleaned. Single colour knitted items can also be hand washed in lukewarm water (30° or less) with cashmere or wool shampoo; follow the instructions on the bottle for the ratio of water to shampoo, and do not use fabric softener as it will stiffen the fibres. Gently wash the item, and do not rub or wring. Rinse well, and gently squeeze or press the water out. Lay flat on a towel at room temperature to dry, shape while wet. If needed, gently iron using a cool setting with a damp cloth, or steam on the iron's wool setting. Never be tempted to use the 'Hand Wash' setting on a washing machine, it is not gentle enough for high quality knitwear and could lead to felting and shrinking of your beloved item.
PILLING
Both Merino and Cashmere that we use in our knitwear are natural fibres and therefore pilling will occur over time as with any soft natural fibre. It is a natural process and does not indicate poor quality. Remember to de-pill your cashmere garment before washing it. We recommend that you use a battery operated defuzzer.
MOTHS
Merino and Cashmere can attract moths. Before storing for long periods of time, ensure that the piece has been washed. Moths are particularly attracted to body oils, hair, stains and food particles. Store your garments in a cotton bag that closes with zippers, as this will allow it to breathe. Wash your wardrobe often, and use anti moths products such as cedar bags when storing your garments and replace them often.
Prevention is key, but if you already have moths or discover moths, remove the knitwear and deep clean your wardrobe or cupboard thoroughly. Then freeze the knitted items for at least 48 hours. This will kill any moths or moth larvae. You can then defrost and dry clean your cashmere properly. If the problem persists, you may need to turn to fumigation. There are plenty of companies who offer this service at fairly short notice.
STORAGE
Never hang your knitwear on a hanger, especially chunkier knits. This will result in the fabric stretching over time, consequently misshaping, always fold instead. When storing your knitwear between seasons, ensure that it is absolutely bone dry before stowing away. Even the slightest dampness can result in mould or mildew.